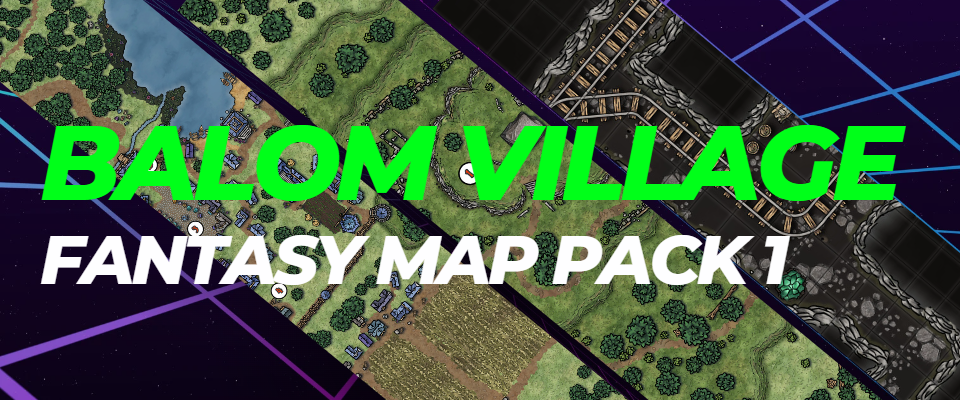 The Balom Village Fantasy Map Pack 1
It started as the 90 Minute Village, an exercise in creating maps for game as if I were a GM doing some hasty prep. Then it spooled up from there, and Balom Village was born. This is the collected effort of weeks of live streaming map creation, a set of workaday maps ready for your use. Balom Village was envisioned as a low level adventuring location with enough happening to give the players a reason to stick around and have local adventures. The epicentre of these adventures is Grafis Hill, a nearby site known for generating monsters seasonally and its long history.

What are you getting?
2x Area Maps, covering Balom Village itself and nearby Grafis Hill.
6x Encounter Zone Battle Maps, in clear, grid, and grid+rough terrain forms.
1x Mini-Dungeon Map, in clear and with grid.
All the maps were exported in 4K quality from Inkarnate. Please be aware that the PDF file had to be compressed to 78Mb from 831Mb. So it's slightly less crisp than the PNG files.

Format Info
Sheet Size: 24x18"
78Mb PDF
149Mb Zip File of individual PNG files.
More Balom Village Stuff?

If this does well, I'll absolutely look at further developing the region and taking suggestions/running polls to find out what people are looking for in terms of expanding it!
How was this made?!

You can watch the whole process on my YouTube channel! Hit up the 90 Minute Village and Grafis Hill Encounter Zone playlists to see it all happen! Don't forget to like and subscribe while you're there!
POCGamer, GBDW Games, Balom Village, and Grafis Hill are © Graeme Barber, 2023, all rights reserved.

Purchase
In order to download this game you must purchase it at or above the minimum price of $7.99 USD. You will get access to the following files:
Balom Village Area.pdf
77 MB
Balom Village Area.zip
149 MB