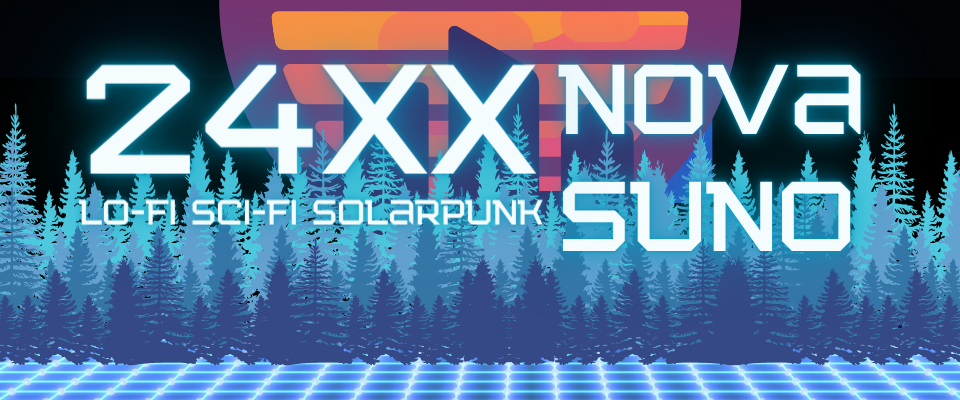 NOVA SUNO
World Anvil Expansion! Follow this link to World Anvil to learn more about the world of NOVA SUNO, Nova Tero!
In NOVA SUNO, you are a team of SOLARPUNK SCAVENGERS. The Flash War devastated the world with nuclear and mutagenic weapons. Your enclave has embraced a greener future, but still needs things from the old world to succeed. This is where you and your team come in. Your skills, combined with the mobility of your sweet ride lets you venture out into the hazardous wastes and ruins to salvage what you can to help build a brighter future.

The Old World ended in a bang, flash, and mutagenic scream, but the survivors of your enclave and others have rallied against the Returner Cults and Vestiges, who want to make the world what it was again. You've staked your life against mutagenic monsters, the environment, and the tech beasts that roam the lost cities. You're struggling against the odds to create a green SOLARPUNK future.
Play as one of the surviving humans or as a anthro, one of the many mutant animals who now claim earth as their home. Gameplay is lightweight and fast. The core of the game is a single double sided sheet of paper, but there will be supplemental material included soon.
NOVA SUNO is my first game made using both the 24XX system and Affinity Publisher.
Credit:
NOVA SUNO uses 24XX ver. 1.31 by Jason Tocci, under a Creative Commons Attribution 4.0 Licence (CC BY 4.0)
Copyright:
NOVA SUNO and GBDW Games are © Graeme Barber, 2021
Purchase
In order to download this game you must purchase it at or above the minimum price of $3.99 USD. You will get access to the following files:
Nova_Suno_v1_Pages.pdf
1 MB
Nova Suno Character Sheet.pdf
Nova Suno Character Sheet_Ink Friendly.pdf
377 kB
Community Copies
Support this game at or above a special price point to receive something exclusive.
Community Copies
Get your gear and hit the post-apocalyptic landscape to make a better world!