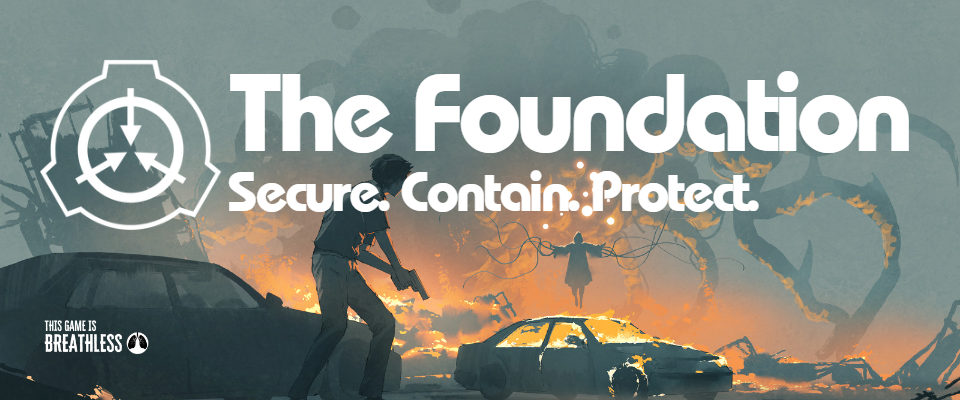 The Foundation
Secure. Contain. Protect.
"Good morning, and congratulations on your successful recruitment to The Foundation. As you have all discovered or been shown, there is more to the world that we live in than the public knows. Anomalous objects, locations, and subjects are appearing with increasing frequency, and our mission of protecting the world by securing and containing them is more important than ever. Whether it's a sponge that can absorb seemingly unlimited amounts of water without gaining mass or a cult around a reality bender trying to rewrite the fabric of reality, it's our job to stop it. There are other... organizations, but their methods and ideology place us and the world in danger more often than not, so be wary. Report to your teams, get your full orientations, and try not to die in the first week."
What you get!

When you purchase this, you are getting a rules-lite tabletop RPG.
Format Size: US Letter
Length: 10 pages cover to character sheet

Play!

Take on the roles as members of the SCP Foundation in this rules-lite tabletop RPG! There's six jobs, each with a separate special skill to help them succeed in the dangerous environment of the SCP Universe!
The Researcher
The Field Agent
The Containment Specialist
The Security Officer
The Tactical Operative
The D-Class (good luck!)
As individuals or as teams, the players will have plenty to do, as the Breathless System offers a lot of flex to cover the events common and uncommon in a world where anomalies are very real.

The Engine

Based on the successful engine of Fari RPGs' amazing Breathless System, this game is made for people looking for less crunch in their SCP gaming experience.

What is the SCP Foundation?

That's a tall order that's outside the scope of a rules-lite TTRPG! The short of it is that the SCP Universe is a shared creative space with a canon-lite continuity. It skews in terms of genre towards science-fantasy mixed with horror, but can cover a lot more! That's why I picked the Breathless System as a baseline for it, to give players and GMs alike a high degree of flexibility that's in keeping with the general vibe of the universe. To learn more and/or get inspiration for your games, please head over to the SCP Wiki site. To save on space, there's links throughout the game to take you directly to the site as well!
Licence Info

Content relating to the SCP Foundation, including the SCP Logo, is licensed under Creative Commons Sharealike 3.0 and all concepts originate from https://scp-wiki.wikidot.com and its authors. As a derived work, The Foundation is also released under Creative Commons Sharealike 3.0 except where other licences are active. (https://creativecommons.org/licenses/by-sa/3.0/)
This work is based on Breathless, product of Fari RPGs (https://farirpgs.com/), developed and authored by René-Pier Deshaies-Gélinas , and licensed for our use under the Creative Commons Attribution 4.0 License (https://creativecommons.org/licenses/by/4.0/)

GBDW Games and POCGamer are © Graeme Barber, 2023, all rights reserved.
Purchase
In order to download this game you must purchase it at or above the minimum price of $5.99 USD. You will get access to the following files:
The Foundation RPG v1.pdf
6 MB
Comments
Log in with itch.io to leave a comment.
Do you think you'll ever add community copies?? cause this looks amazing!!
I'm just doing some rewrites and clarifications, and then when v1.1 drops, there will be community copies.